Climax Brewing Company
Roselle Park, NJ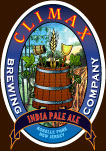 IBU: 42
ABV: 6%
Serving Temp: 45°
Color: Copper
This American-style, hop-driven beer starts with a citrus flavor, followed by two layers of caramel, and finishes on a hoppy note.
"Smooth with a layered malt background; very long, late soft development of hop character. A hoppier beer but remarkably well balanced."

Michael Jackson—The Beer Hunter

AVAILABLE IN 4/6pk AND 1/2s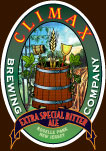 IBU: 32
ABV: 5.5%
Serving Temp: 45°
Color: Amber
Our E.S.B. is a balanced beer with notes of honey, toffee and caramel, backed by a warm spicy hop bitterness.
"This beer has a clean, soft, malty start, developing honeyish notes and finishing with a late, dry subtle hoppiness."
Michael Jackson—The Beer Hunter

AVAILABLE IN 4/6pk AND 1/2s
GOLDEN ALE
IBU:
ABV:
Serving Temp: 45°
Color: Yellow
Our Golden Ale is a light, crisp, yellow ale with hop-notes and citrus flavors. It's a smooth, easy drinking summer beer that's perfect for drinking on hot days and with light fare such as seafood and salads.
AVAILABLE IN 4/6pk AND 1/2s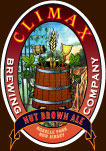 IBU: 25
ABV: 5.2%
Serving Temp: 45°
Color: Ruby-Brown
This style of beer is based on the English Mild, which was a combination of a stout and a lighter beer favored by coal miners in Scotland, Ireland and North England.
We've brought together the grains used to make both a Stout and a Pale Ale and balanced them in our Nut Brown Ale to produce a beer with a chocolate and molasses flavor and hints of caramel and coffee in the background
AVAILABLE IN 50L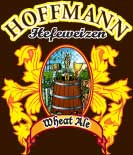 IBU: 12
ABV: 4.8-5.2%
Serving Temp: 45°
Color: Golden
Hoffmann Hefeweizen is our newest offering and is a traditional German wheat beer made from 60% wheat malt and 40% barley malt. Wheat Ales such as this typically have banana and clove flavors but as Dave dislikes clove, he used a special yeast to strengthen the banana flavors. Hefeweizen is a nice, light, crisp summer beer that can be served with lemon or flavored syrups. AVAILABLE IN 50L
Oktoberfest
IBU: 18
ABV: 6.2%
Serving Temp: 45°
Color: Pumpkin Orange
Oktoberfest is typically available from August to November and has toasty caramel and malty flavor. It is made from German Noble Hops and massive amounts of Munich Malt, which give it an orange color.
AVAILABLE IN 4/6pk
Just in!!!
Pretty Things Babayaga 12/22oz & 1/2s
Rock Art Variety
Rock Art Imperial Pumpkin Spruce stout 12/22oz & 50L LAST CHANCE!!
Rock Art Magnemus ESB & Vermonster 12/22oz
Coming Soon!
Jolly Pumpkin La Parcela 12/25oz
ShawneeCraft Oktoberfest 1/6s, Pumpkin saison 1/6s, Low Gas Bourbon Barrel aged porter 1/6s(not available in all counties)